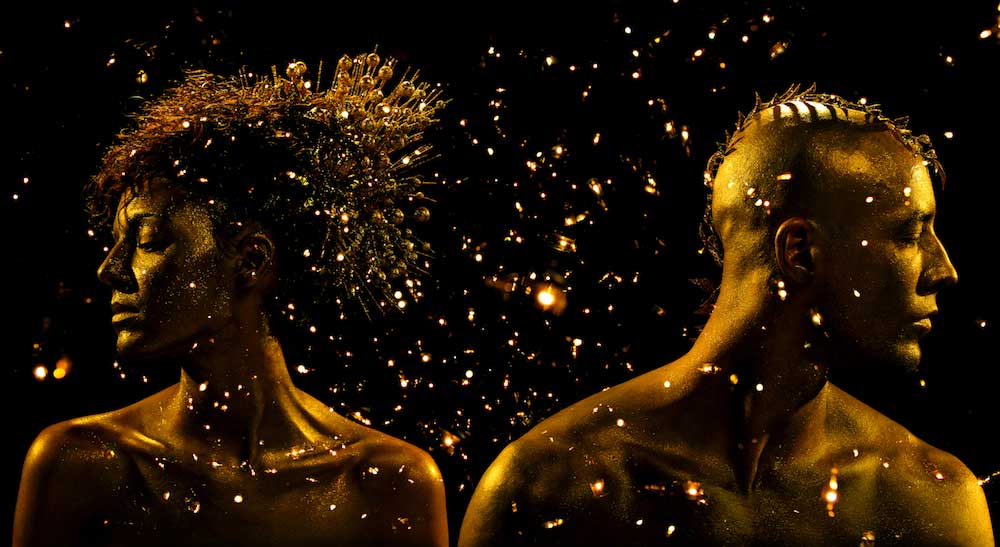 Interview: Art-Rock Duo, Mr. Gnome DIscuss Their Double LP "The Day You Flew Away"
For those of us that grew up listening to entire albums in one sitting, today's playlist culture doesn't ignite the same emotional connection to the music. Making a cohesive album that tells a story from song to song is not an easy task which makes the art of album craft rare these days. So I was completely blown away when I heard that the art-rock duo, Mr. Gnome was releasing the double LP, "The Day You Flew Away". It's incredibly rare to see an artist go all-in on a double LP, especially in these uncertain times when most artists are focusing on singles or EPs.
The Cleveland based duo of singer/guitarist Nicole Barille and drummer/pianist Sam Meister are musical outliers that write surreal, anti-pop operas that stretches the psychedelic music genre to its limits. Mr. Gnome weave soaring, hypnotic, melodic themes with 70's fuzz, and drugged-out rhythmic beauty that flows from track to track.
"The Day You Flew Away" is an extremely personal album for Mr. Gnome. Coming off a hiatus due to family tragedy, Nicole and Sam have reemerged with a monumental piece of work. From the funky bounce of "Psychonaut", to the pop-punk energy of "Gold Edges" to the acid trip of "Golden Daze", the 3 singles that have been released so far offer a small glimpse of what is to come.
I got to sit down (virtually) with Nicole & Sam of Mr. Gnome to ask them a few questions.
Golden Daze is an epic track! Can you tell us a bit about your writing and recording process? 
Thanks so much!  Our writing process varies.  Sometimes we write stuff in a live setting and everything will kind of fall into place.  And then sometimes we write the music beforehand and I'll layer all of the vocal ideas in ProTools.  I really love doing things this way because I can get lost in the song and take the melodies anywhere, instead of having to come up with vocal ideas on the spot in a live setting.  "Golden Daze" was originally written on this old Genie organ during an extended jam session.  The vocal melodies came right away.  Then we reworked the music and made it into the beast it is today.  
Regarding the recording process, we record in our home studio in our basement.  It's been extremely liberating to be able to record at home.  We just recorded our second album here and it was such an amazing, therapeutic experience with tons of experimentation.  The great thing about a home studio is that you can really try any idea.  We really messed around with sounds, using toys, layering, just exploring every avenue with each song.  
The Mr. Gnome sound seems to pull from many influences, where do you draw your inspiration from?
Life, death and every musical genre we can get our ears on.  We love so many different styles of music, decades and genres of music, and never shy away from any idea we come up with if it feels right.  We love pushing the envelope and exploring sounds we've never made before.  We never want to make a linear album or make the same album twice.
What have you been doing during the lockdown to maintain fan engagement? 
For a band like us, that's made our career on the road, whose fan base has grown and sustained from touring, this has been a difficult experience for us.  We had taken the last few years off from touring to raise our son and were fully preparing to hit the road again behind our new album, which was years in the making, and then COVID hit.  So our plans were completely derailed, along with everyone else's plans in the entire world!  So we're trying to embrace the moment in whatever way we can, adapt and adjust to this new normal.  Right now we're doing our best to give people new content, keep our fans excited about our upcoming release in a few weeks.  At the moment, we're having lots of fun practicing and learning how to play all of this new material in a live setting.  Planning on doing some pre-recorded live sessions that we hope to share with everyone.  
Has this crazy year influenced your approach to recording and marketing your music?
Well, recording won't change because we do everything from home.  But marketing, yes, of course!  It's completely limited to the digital realm.  So we're just learning and adjusting and trying to come up with creative ways to connect and engage with people.  
Anything new in the works that you can talk about?
Yes, we have a new album coming out on October 16th, The Day You Flew Away.  It's a double LP and it's the most personal album we've ever made.  One record is about the loss of my father, death, grief, the dark side, and the other record is about the light that followed with the birth of my son.  We're very excited to share it with everyone.  We've been working on it for years and it's a little weird to let it go, but we felt it was necessary especially at a weird time like this when people are experiencing their own grief and so many hardships.  
Thanks for taking the time to answer a few questions!
Thanks so much!! 🙂
"The Day You Flew Away" is coming out on October 16, 2020 on El Marko Records.
Follow Mr. Gnome: Website | Facebook | Instagram | Twitter | Spotify
Listen to "Golden Days" and other Trend & Chaos picks on our Spotify Discover Playlist.
You May Also Like
___________________