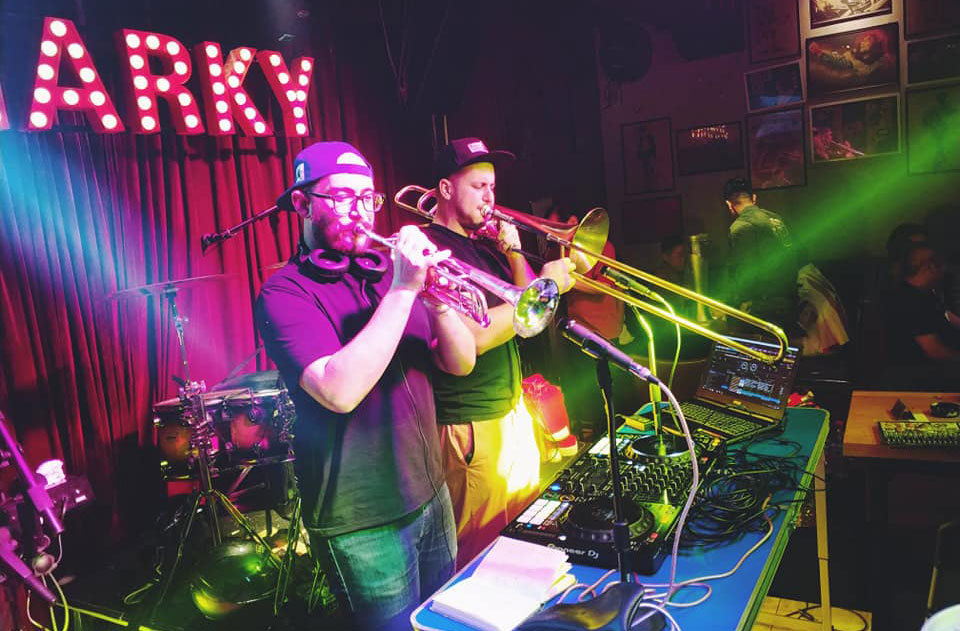 Interview: "Intro To Music Theory" Partner with Charged Particles On New Album
In our continued deep-dive into projects that are going beyond the traditional album release format, we have come across one that I think is at the forefront of the pack. In terms of project scope, creative marketing, and precision execution – the new album from the unusually named duo, "Intro To Music Theory", is a must-see project.
Originally from Southern California, the musicians, DJs, and producers Matt Waters and Matthew Busch are now based in Haikou, China. Their sound is an inspiring mix of jazz, funk, and house music rooted in their skilled horn arrangements and playing (trumpet and trombone). Their latest release, "First Inversion" builds upon their 2020 debut EP, "Toot the Bad Horn" which launched their unique partnership with the NFT/Defi platform, Charged Particles. To say that creating a music NFT with Charged Particles is thinking outside the box is an understatement and anyone who does not have an understanding of decentralized finance might have some trouble understanding how this all works. 
On a very basic level, a Charged Particle is an NFT that can hold other digital assets inside of it. The assets that can be included are endless, it can be an art collectible, game item, any ERC token, or even real estate. Some artists harness the power of these "Charged" NFTs to offer their fanbase a chance to participate in the growth and success of the project in very unique ways. It is even possible for one of these Charged NFTs to earn the owner an interest yield if it is charged with an interest-bearing asset. This could potentially become an income source for fans and supporters of a project. It might be a bit hard to understand but it's very cool to see in action.

"First Inversion" is a multi-faceted project that kicked off last week with an epic party in the Metaverse with many partners in the space. Over 1000 people gathered together in Cryptovoxels (a popular Metaverse platform) to listen to the band perform, participate in scavenger hunts, giveaways and to celebrate IMT's album release. It was a lot of fun and offered us a glimpse into the inevitable future of virtual community building in the music ecosystem.
There are many moving parts to this project so I sat down with Matt and Matthew from Intro To Music Theory to discuss the project in detail and hopefully provide some clarity and inspiration for other artists.
We are very curious about where you came up with the name of the group. Did you guys meet in a college class called Intro To Music Theory 101?
Great question! We met during a summer in 2009 while touring the US through an activity called Drum and Bugle Corps. A couple years into teaching university music here in China, we started DJing together under the moniker 'IMT.' It started off as a bit of an inside joke as during every set we were figuring out the key centers and chord progressions of our favorite tracks – it certainly felt like being back in a 101 course but onstage! Now, it's evolved into an homage to all of our early instructors who schooled us on the basics of music, and a reminder to us that music is simply just a collection of sounds that bring emotion to the listener and to enjoy every step of the process.
How did you first get involved in the NFT space?
We've been involved in the crypto space for a while now on a personal level, following the developments of ETH in particular. It wasn't until more recently, however, that we jumped into this space in a large way. Just like other musicians and artists, COVID completely destroyed live performance for a long while across the globe and we shifted to doing online events. It was through this shift, looking for more opportunities online, and a fortuitous opportunity with the launching of the Charged Particles protocol, that we dove headfirst into the NFT space.
There are so many aspects to this release that go way beyond the basic principles of a music NFT. Can you tell us about the concept and how each individual NFT relates back to the new album and the project as a whole?
With 50+ NFTs at the launch, it's going to be impossible to launch into each one individually, however, they broadly fall into two categories: Art NFTs and Utility NFTs. Our art NFTs were stunning. We were super fortunate to have eleven collaborating artists, nine of them interpreting a track from the album as their inspiration. They ranged from virtual 3D worlds to complex and beautiful pieces including digital manipulation, audio reactivity, and a level of variety that we simply haven't seen much in the NFT space. The utility NFTs were focused more on rewarding fans and giving value to other producers. They ranged from NFTs that unlocked sample libraries to NFTs that were linked to a physical piece of merch such as a microchip-embedded NFT-Shirt or NFT-Poster through one of our partners, NFTYthings. 
You are working closely with Charged Particles on this project. How are your NFTs "charged" and what benefit does that give fans and supporters of Intro To Music Theory?
All of our NFTs that were offered at our event on the Charged Particles platform were charged in some way. Mostly, that took the form of our social token, the Integrated Music Token, that collectors can use to redeem for some other NFTs such as the ones we talked about above. In addition, we minted one ridiculous NFT, the Increasingly Magical Trunk that holds the equivalent of $1200 USD that is generating interest, 20001 IMT social tokens, as well as the master rights to the B-Sides from our album and ep. 
Do you foresee a future where all bands have a social token that provides special access or privileges for fans and supporters?
We see a future where social tokens become more mainstream, however, there are significant hurdles to overcome, mainly that deploying a social token contract based on the ERC-20 standard isn't easy to do at the moment. We see a massive utility to not only reward those that spend to access the VIP section at shows, but to those fans that have been consistently supportive and earned those tokens through their support. The beautiful thing about this space is that you can't fudge the numbers. If someone has been given an amount of social tokens, they've earned them, and they're deserving of special access and special rewards from us as a group. We see the case strengthening for more groups to adopt this moving forward.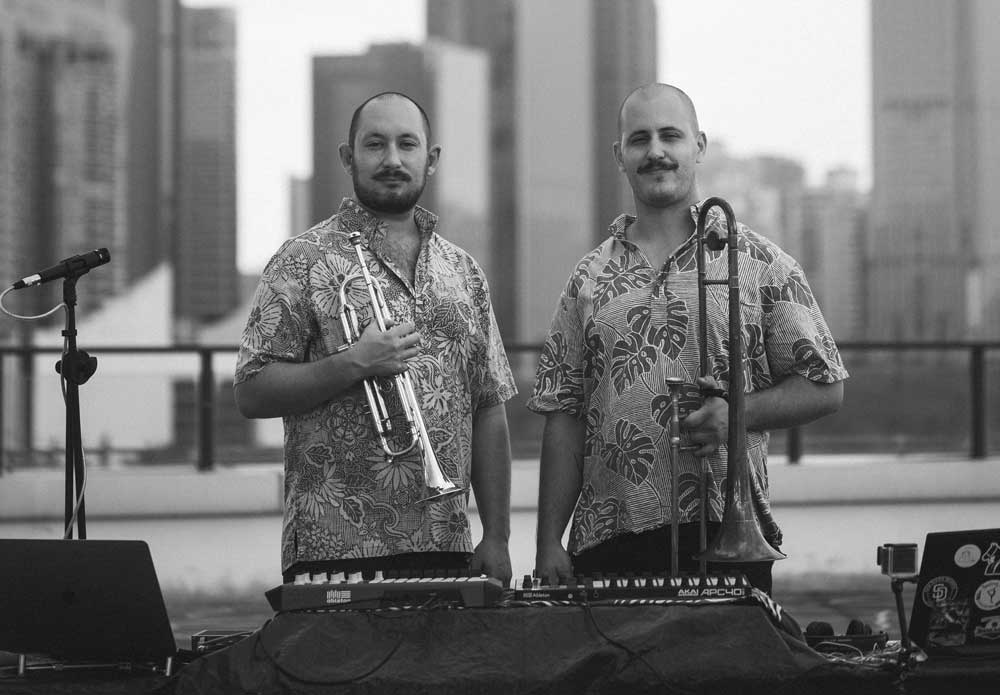 Tell us about your cool Intro To Music Theory T-Shirts that have embedded NFC chips! 
The NFT-Shirts through NFTYthings.com are a really fantastic application of NFT technology in the physical world. Rather than simply being a printed t-shirt, the NFC microchips inside the shirt provide a direct link to the NFT, an unreleased live set from us here at Intro to Music Theory, and the transaction information from the original purchase. It's a stunning way to reward collectors for purchasing our merchandise that goes beyond a simple t-shirt. Scan the shirt with your phone, and you have something unique that you can get only through purchasing the shirt, as well as proof that this shirt is an original print from us. 
Can you tell us about some of the other partners that you worked with on the release and what their involvement was?
Absolutely! On this launch we had a bunch of really supportive partners. Bittrees, Charged Particles, DAOrecords, Tokensmart, NFTY things, and our label, HMP Records. Everyone brought something to the table that we couldn't have done without. Bittrees created some stunning wearables for CryptoVoxels, Charged Particles gave us a massive amount of support in minting on their platform and using their virtual spaces, DAOrecords helped us with a remix contest that we ran on Audius for the album launch, Tokensmart was an awesome host to the event, and NFTYthings allowed us to use their technology to do things with NFTs that haven't been done before. This event was really groundbreaking in the amount of collaboration involved. 
Tell us a bit about the recording and production process for "First Inversion". 
Great, because we love chatting about it! The album's genesis began with the creation of our self-produced live set that we control through Ableton. Before about a year ago, we were jamming out on horns through the mic input FX on traditional CDJ mixers, but wanted more control over the elements of a track and the freedom to explore and experiment with FX on our horns via looping and other means.
The production of the live set began last October during a 28 day quarantine upon our return to China after we got stuck abroad during a performance tour through New Zealand and Thailand in early 2020. During those four weeks, we challenged ourselves to produce a groove or rough sketch of a track every day with our minimal setups. Since half of the quarantine was done in a hotel, playing horns wasn't possible, so a lot of what we created during this time was pulling together different elements from genres we love into the electronic realm.
The live set grew to stand around 90 minutes long over a myriad of styles that grants us the opportunity for improvisation, looping, manipulation and automation of clips. When we set our minds towards this album, the live set was boiled down to the 42 minute journey that is 'First Inversion,' and was recorded and mixed by us in our studio here in Hainan.
At the moment, our preferred VSTs for processing horns include SoundToys (particularly Decapitator, Little Alterboy and PanMan), Valhalla Reverbs, Soothe (to help remedy some of the issues of our recording environment during its renovation), Oxford Inflator/Limiter, and we can't help but get weird with a little phaser from time to time! To be honest, we generally stick to stock plugins and find you can get a lot of mileage out of them, especially in live environments. The IMT rule of thumb is we generally three-track everything that isn't a solo to give a sense of presence in the stereo field.
If you'd like to produce your own tracks with some of our horn samples from the album, we will offer an IMT horn sample pack that includes over 70 stems and will be released alongside the album in July! This will be part of an ongoing series of sample packs that will continue in the fall and into the future.
Are there any plans to tour in the near future and how will your IMT token be integrated into the shows?
There are absolutely plans to tour as soon as the world starts opening up a bit more. For us, we're looking forward to getting back out into SE Asia, doing another China tour, and hopefully expanding from there. It'd be really nice if we could make it out to Europe in 2022 after vaccinations have made their rounds worldwide. As far as the social tokens being utilized at live shows, we're working on some really unique and groundbreaking use cases that we're keeping secret for now. Stay tuned for that!
Do you think that NFTs have the potential to disrupt the current music distribution ecosystem?
Oh, absolutely. The entire promise of the crypto space is eliminating unnecessary barriers between transacting partners. In the music space, this takes the form of middlemen that always seem to be taking cuts from artists without giving an equivalent amount of value back. In the NFT music space, this means musicians directly to fans, musicians directly to peers offering services, without the massive platforms that are taking 20, 30, 40 percent of payments and generated revenue. We are adamant that as the NFT music ecosystem grows, we'll also see more independent artists being able to make a living and keep more of the value they generate through creating.
______________
Follow Intro To Music Theory: Website | Facebook | Instagram | Spotify | Twitter | Charged Particles
You May Also Like
___________________