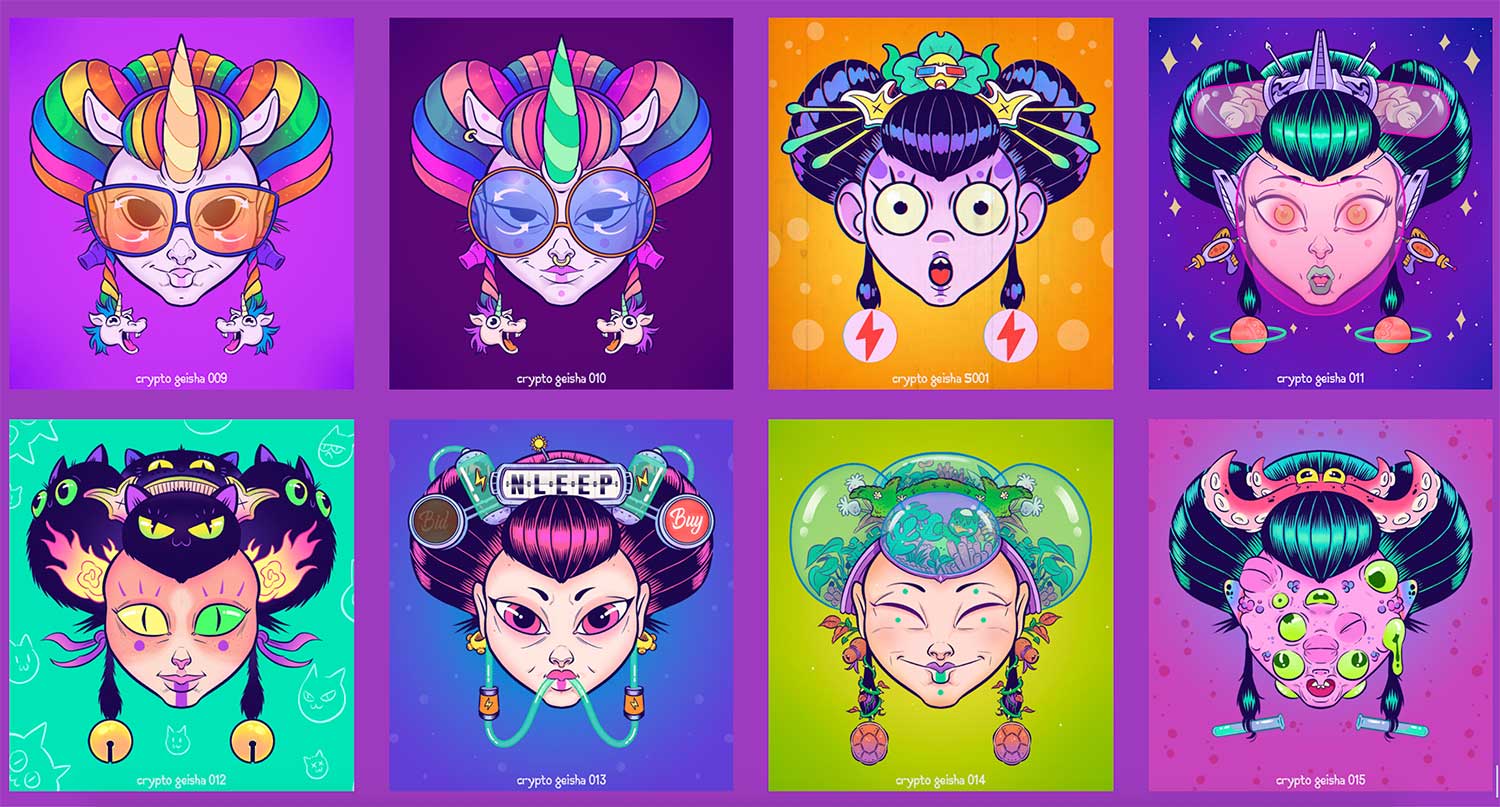 Interview: Crypto Geishas | NFT Collectibles
This post is also available in:

日本語 (Japanese)
Digital collectibles are becoming increasingly popular. Kitties, aliens, sneakers, punks, and memes appeal to a wide range of collectors for a multitude of reasons. Aside from the current NFT boom and the expectation that these will rise in value, these types of collectibles bring back a childhood sense of anticipation and joy. That feeling that you may have had opening a pack of Pokémon cards or the hope of getting a rookie card from a pack of baseball cards is something that we all remember. As life has gotten excessively more complicated, anything that brings back these little moments of wonder is worth pursuing. One set in particular that has caught our eye and that has been taking off with collectors is Crypto Geishas.
The Crypto Geishas NFTs are all centered around a main cartoon-like, illustrated Geisha design that plays on Japanese pop culture. Each one is crafted around a theme like Cyber Geisha, Failed Experiment, Bat Geisha, The Bride, and also has a unique animation element that adds adorable movement. These NFTs are extremely creative and a lot of fun to look at. The Crypto Geishas are released in limited edition sets of 10/10, 5/5, or 1/1. Every drop has sold out to date!
We interviewed the artists behind the work to get a little bit of perspective on the project.
Please tell us a bit about yourselves. Where are you from? The types of projects you work on, etc. 
We are a couple of illustrators living in Barcelona. For years we have been dedicated to illustration, comics, character design, and graphic design, carrying out all kinds of custom and personal projects.
Where did you get the inspiration for the Crypto Geisha series? Are you fans of anime and manga? 
We love Japanese culture, manga, anime, comics in general (we are great manga readers), and all kinds of weird stuff, we love collecting art toys … with this project we find the perfect balance between our two styles and our own personal tastes.
You have been able to develop a community of fans and collectors very quickly. What do you think is the key to building that for an NFT artist?
We are very grateful for the support we receive and from our beloved Geisha Gang, as we like to call the community that has formed around Crypto Geisha. We could not say which is the key to everything but we understand that it is a combination of factors. For us, the most important thing is to enjoy what we do and always, always, be ourselves. We do not understand this project without the support and personal connections that are generated.
Can you tell us about your creative process for designing each Crypto Geisha? What tools do you use for illustration and animation?
Each Crypto Geisha is digitally handcrafted in Photoshop, they all have their own process and need their time. From time to time we sit down to brainstorm and write down the funniest ideas, from there we get carried away a lot so that each design can be an artistic piece in itself. As we want a fairly traditional result, we use special brushes created for the occasion and frame by frame animation and we do it all in Photoshop.
There will only be 100 Crypto Geisha editions. Are you planning to continue developing other Crypto Geisha drops after these are are finished?
Yes, there will only be 100 Crypto Geisha models distributed in editions of 10, 5, and 1. To that, we will have to add 10 special editions that will be outside the official numbering.
During the course of the collection, there may be rewards but it is with the finished collection that you can get 1/1 unpublished pieces. Collection 1 ends here. We are working on a possible collection two, but we don't have much defined yet, it will be something very different.
You May Also Like
___________________
This post is also available in:

日本語 (Japanese)