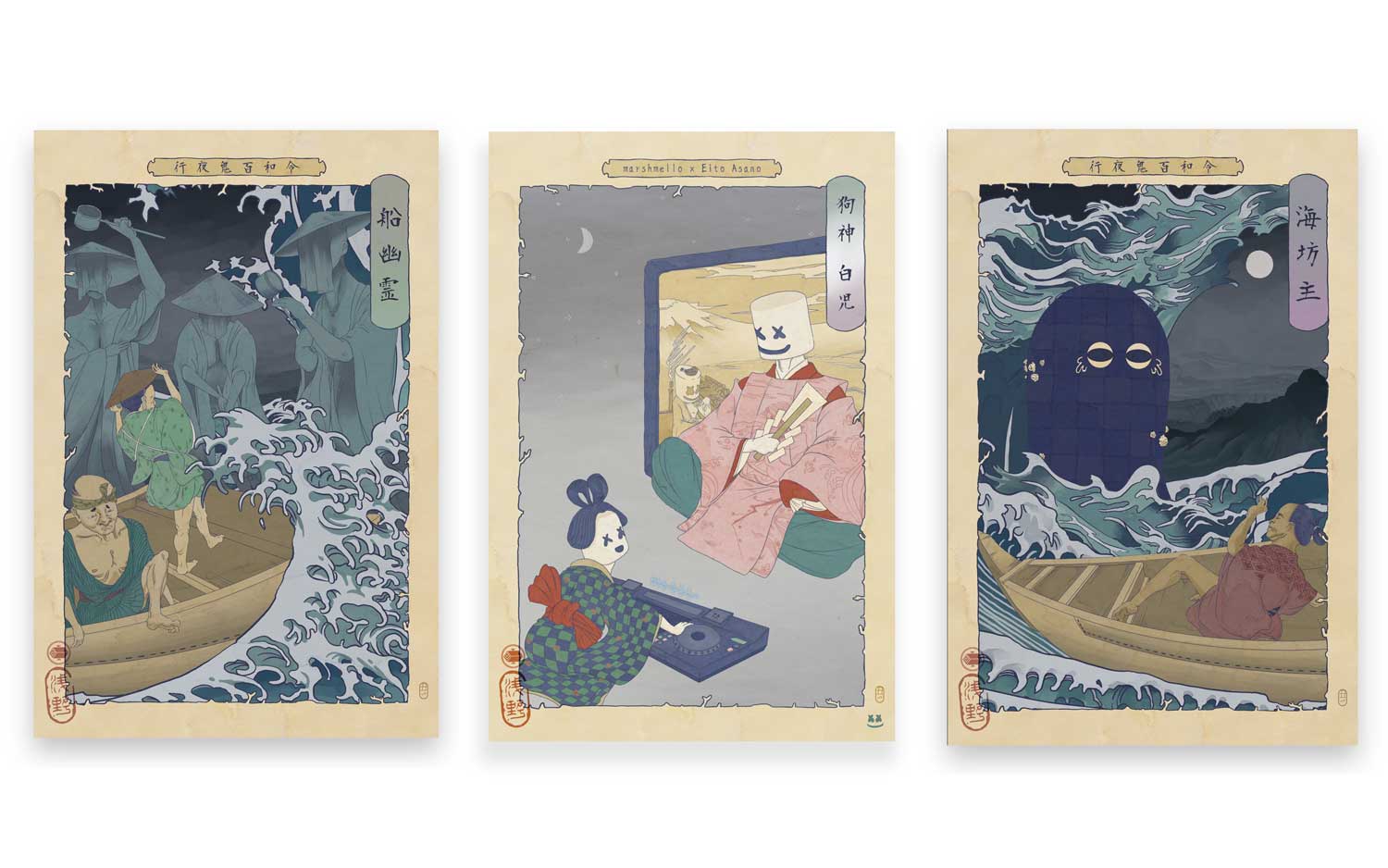 NFT Artist Eito Asano: Traditional Japanese Ukiyo-e Meets Pop-Culture
This post is also available in:

日本語 (Japanese)
I have always been fascinated by modern traditionalist artists that can seamlessly blend classic technique with pop-culture references. It shows that the artist has a deep understanding of the history of their art form while bringing a new aesthetic and forward-thinking perspective to the tradition. When I first met Eito Asano, I knew that he was on to something truly special. His work morphs the woodblock printing styles of Japanese Ukiyo-e with a digital art process and animation. Eito's work is inspired by Yokai, which are spirits or monsters from Japanese folklore. Yokai can be mischievous creatures that cause trouble for people who encounter them, but there are also some that can bring good fortune to a lucky passerby. Yokai are fascinating and you can read more about them here.
Although Eito Asano is new to NFTs, his work has become highly collectible. Every piece on Foundation has sold out quickly, which is not surprising considering the quality of the work and the unique narrative that each piece holds. Eito has also been a pillar in the community, spending a lot of time on Twitter and Clubhouse to help onboard and educate the community and he donates a portion of each sale to charity. That goes a long way with collectors in the NFT space. 
I had the pleasure to sit down with Eito Asano to discuss his work, NFTs, and how he is working to build his community and reach collectors.
Can you please explain a little about Japanese Ukiyo-e and how you got interested in it?
浮世絵 / Ukiyo-e is a Japanese traditional woodblock printing technique developed during the Edo period (1603 – 1868 B.C.). It was considered public entertainment and enjoyed in the form of magazines at the time. Portraits of celebrities, actors, and landscape illustrations were particularly popular.
The technique involves a multitude of professionals. From designing the pattern, wood carving to printing. Each professional had complete mastery over their craft.
I was inspired by a unique category of prints – 妖怪画 / Yokai-ga. Yokai are monsters from traditional folklore and continue to be popular in Anime, as well as other forms of Japanese pop culture. Having lived outside of Japan for a long time, discovering Ukiyo-e gave me an opportunity to reconnect with my heritage.
Your work crosses over from traditional Ukiyo-e into the world of anime, is there a balance that you try to find to keep historical accuracy to the work but bring in modern themes?
In my digital Ukiyo-e collection, I like to incorporate pop culture into tradition. All the Yokai featured in my illustrations are based on anthropological literature,  reflecting upon local folklore in its purest form.
I'm an academic during the day – a medical student – which may be why I try to reference such articles to stay true to authenticity. 
Having said that, it's no fun just mimicking an old style. I add a hint of spice to tradition through animating yokai, using unconventional patterns and even featuring figures from pop culture. My latest piece is a prime example where I re-design an ancient illustration by incorporating the portrait of DJ Marshmello.
Yokai are also a big part of your thematic work – what is it about these mythical, ghostly figures that inspire you?
In modern-day Japan, you'll hear a lot of people talking about 'kawaii'. It directly translates to the word 'cute'. But kawaii is so much more than that. It is a concept, a culture, and a philosophy.
Their stories are meant to be scary, making you shiver even in the hottest Japanese summers. Though, when I visited Ukiyo-e museums and purchased books about Yokai, I found these stories to be 'kawaii'. Take a look at some of the illustrations below. These illustrations and stories are just quirky and humorous more than anything. I instantly fell in love and started incorporating them into my illustrations. Ultimately, Yokai-ga contrasts elements of cuteness, scariness, and silliness in a single style.
How did you first get into the NFT space and do you see it as a growing opportunity to engage with collectors?
As embarrassing as it is, Beeple was my main inspiration to join the NFT space. Ever since mainstream media began featuring NFT blockchain as a new way to sell digital illustrations, I was instantly hooked. It still is a field that's not well understood and many people aren't as comfortable investing time and money into it. Despite this, the NFT community is expanding exponentially, and I am fortunate to be able to meet hundreds of emerging digital artists and collectors around the world now.
I was blessed to be able to meet so many kind-hearted artists from the community. It was through these fellow artists that I was invited to join "Foundation", a digital marketplace. So far, the NFT community is built upon artists supporting each other on a global scale. This chain of kindness that is engraved in the blockchain is what drives me forward as an NFT artist.
How are you currently marketing your work to reach new fans and collectors?
I'm currently working on the 百鬼夜行 / hyakki yagyo collection under the #NFTcharity movement. The premise of this initiative is that I donate a portion of my sales to charitable NPOs (Non-Profit Organisations). So far, I have donated to Amnesty International UK LGBTI, UNICEF, and the Scottish SPCA. I aim to expand the chain of kindness beyond the art community, to help people in need through the positive powers of art.
Wood prints were an innovation in the analogue art world that made the mass production of a single work possible. Historically, only the first copy, which is usually signed by the artist, had real value in the market.
I found similarities in the concept of NFT art. Digital media made replication effortless, but there were no regulations to prove who the owner of the first copy was. However, blockchain technology allowed artists to sign their work as proof of ownership. This is why I decided to tokenize my Ukiyo-e illustrations.
As mentioned earlier, Ukiyo-e was mass entertainment, where audiences were closely connected with the artist. There are three key components in my collection to resurrect this intimate relationship between the artist and the collectors.
In my collection, I draw a complimentary Ukiyo-e style portrait of the collector as a little thank you gift.

Some NFTs are priced at a ridiculous value now, but I try to set my price to give more people a fair chance to enjoy Ukiyo-e.

Furthermore, when collectors purchase any of my pieces, they get to choose which Yokai will be featured next – participating in my creative direction. I share five sketches, completely different sets between each purchased NFTs.
Although I'm currently a medical student, I try my best to find any free time to promote myself on several social media platforms, including Twitter, Facebook, Instagram, Cent, Clubhouse, Discord, etc… I'm still one of many emerging artists with limited social media exposure, so I try to maintain a close relationship with each follower!
NFTs in Japan are starting to gain traction, but it seems that it still has a long way to go. Do you think it will eventually catch on to the mainstream there? What has been the response so far from the Japanese art community?
Japan has a long catch-up game to play. In my opinion, they're at least 3 months behind. Culturally, we're very cautious when it comes to money talk. Additionally, the language barrier seems to be another reason why many Japanese artists don't feel too comfortable joining the community, and they struggle to connect with fellow creators and collectors.
Although, the idea of NFT seems to resonate amongst many starving digital artists, just like me. There are many hidden gems yet to join the NFT community.
What other NFT projects are exciting you at the moment? Are there any other Japanese projects that we should be checking out?
There is a new Japanese marketplace called 'nanakusa' which launched just a couple of weeks ago. (https://nanakusa.io) I'm excited to become the first set of official artists featured by the platform. The platform is based on the Japanese language, which gives more artists to give a fair shot at joining the metaverse. I'm thrilled to see where nanakusa will take us, and it's my pleasure to become a part of the history of the Japanese NFT community.
Can you tell us what you are currently working on? Any new drops on the way?
I'm currently working on my next drop, discussing with the collector from my latest piece.
I recently dropped a piece featuring Marshmello and the story of 蛇帯 / Jatai on Foundation as well as 海坊主 / Umi Bōzu and 船幽霊 / Funa Yūrei. 
Meanwhile, here's a sneak peek of what you can expect coming ahead!
Three-panel Ukiyo-e; a gigantic Ukiyo-e sectioned vertically in three. Each will have animations. Each panel will be sold at 0.3333 ETH to make up a millennia when collected altogether. This project may feature one of everyone's favourite Yokai – 龍 / dragon!!

3D Ukiyo-e; where each layer will have a subtle difference in depth. I'm intending to still hand animate core elements, but the wh

ole Ukiyoe will be 'alive' this way!
___________________
Eito Asano is a Japanese Digital Illustrator / Medical Student based in the UK.
He is a verified artist on Foundation, Nanakusa, Rarible, and Hic et Nunc. His main collection / digital Ukiyo-e / Hyakki-Yagyo is available to collect from Foundation.app/eitoasano with new art released every other week.
Follow Eito Asano: Twitter | Instagram | Yokai Club
You May Also Like
___________________
This post is also available in:

日本語 (Japanese)