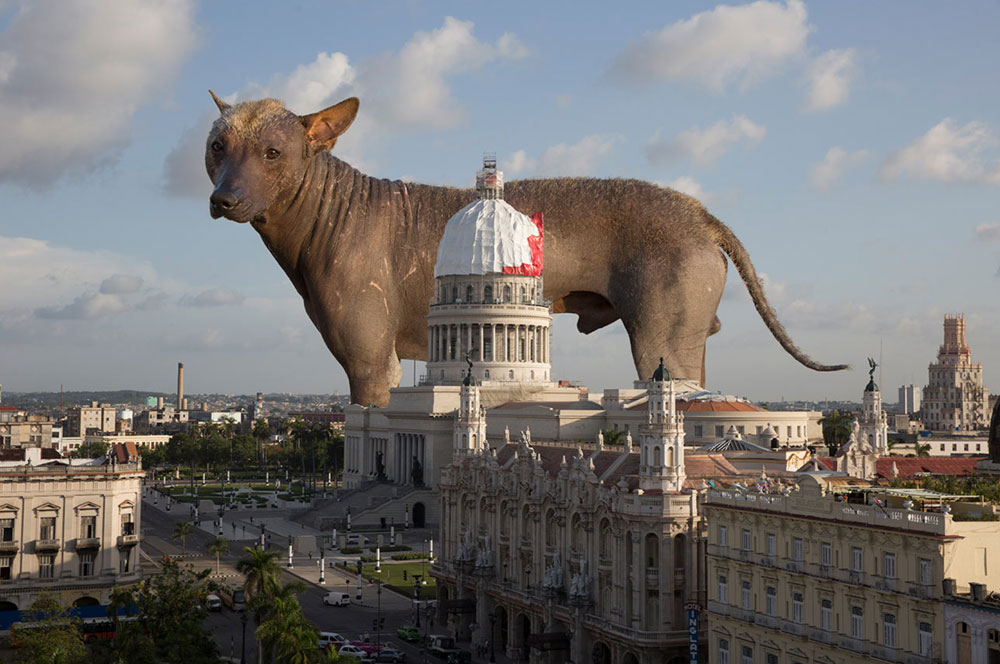 Gabriel Guerra Bianchini
Interview: Cuban NFT Artist Gabriel Guerra Bianchini
There has been a barrage of press lately around NFTs, with people taking sides of an ongoing debate on whether or not they have true value in the art world or are just a momentary fad. Oftentimes, the loudest voices of skepticism are looking at the space through a narrow lens that is focused on perceptions of the art world in countries that already have a market infrastructure in place with collectors and distribution networks. I think it may be important to look at this from a different perspective that goes beyond the frenzy of the multi-million dollar auctions and hyped drops from superstar bands. There are artists around the world that don't have access to the privileged resources that people have in wealthier nations and through NFTs and crypto-economics, many artists and musicians can reach a global audience of fans and collectors for the first time. Entire communities are being lifted up and given the opportunity to earn a living as creators, musicians, and artists. This is how I came to meet the Cuban artist, Gabriel Guerra Bianchini.
Gabriel is one of those people that immediately brightens up the spirit of a room as soon as he enters. Even on Clubhouse, where you can only hear each other, you can feel the room smiling when he speaks. Gabriel has had a very successful career in Havana and was one of the first Cuban artists to enter the NFT space. After hearing about it from a room on Clubhouse, he took it upon himself to learn everything he could about NFTs, ethereum, and the minting process, but it is what he did with that information that is truly inspiring. Gabriel has taken it upon himself to educate artists around Cuba about the opportunity and potential that NFTs can bring them. He has been teaching people one at a time, often going to their homes to show them how to set up a Metamask wallet and to demystify the entire process. He reminded me that the people in Cuba have only had access to the internet within the past 5 years. Gabriel is responsible for onboarding an entire country of artists including some legendary figures like musician and artist, X Alfonso, who has recently dropped his first NFTs on Foundation.
I had the pleasure to interview Gabriel Guerra Bianchini about NFTs, his unique perspective on the Cuban art scene and his hopeful vision of what is yet to come.
How did you discover NFTs and tell us about how you began working in the area? 
I had already heard and read news about NFTs! But it always felt like something from another world, one of those things that only exist in other countries. It was on Clubhouse that I began to understand more about it and realized that I could try it from home, from Havana. I started to spend many hours in the rooms learning and listening. Then I was setting up my space on Opensea and my Metamask, using VPN, since many pages are blocked from Cuba. And when I started to lose my fear of speaking English, I started to share my experience and the limitations I was finding. That mainly came down to buying Ethereum to be able to pay the GAS of my first NFT. In one of those clubs, telling my story, a 23-year-old guy from New York, called me on Instagram and we started talking, it was thanks to that amazing being that I was able to mint because he paid my GAS fees. Since then, I promised to continue the chain of favors and I haven't stopped.
I began to narrate in my social networks about the NFTs, about how I was achieving each step, this led many artists in my country to begin to see it as something close, something possible. I began to receive many messages every day to understand about this. I have taken the time to help each and every person that has contacted me. And suddenly little by little, I saw how a community of NFT artists started to flourish in my country.
You have been very active in teaching the art and music community in Havana about NFTs and are even paying the gas fees for many artists. Can you tell us about the response you are getting from the community?
Exactly the same answer I imagined. A great number of grateful artists, of artists who begin to join together, something that perhaps they did not do before. They break their space of solitude, as many artists live and work in isolation, and begin to spend more time in the community. Helping each other, sharing experiences. Proof of all this is that now in Cuba people talk about NFTs with a twinkle in their eyes and the number of works that will be born as inspiration from this new possibility. See projects like Fábrica de Arte that are beginning to be born as a channel to facilitate the access of Cuban artists. All this and more to come.
Do Cuban artists see NFTs and the decentralization of art sales as a way to reach new audiences that would be difficult under the current regime?
Of course, they now have access to an international market without having to leave the island. This is very important in the times in which we live since the covid has affected the mainstay of the Cuban economy, which is tourism. It will also help Cuban artists to connect with more artists around the world. This globalization is very grateful and necessary. All thanks to the fact that we already have internet even if it is expensive and not accessible to all. It is also a window for many artists with critical art that was impossible for them to monetize their talent inside the country. Since these are decentralized platforms, there is no political filter that decides which Cuban art can be presented and which cannot. I give the example of Paolo, a Cuban artist with great digital work that is critical with the government. This can change the reality of many artists in the country.
Can you tell me anything about the roots of Cuban artists' critical thinking in contemporary arts. Is this intellectual approach an integral part of the arts education there?
I believe that critical art is part of the very roots of the Cuban. Our history has shown that we are a rebellious and fighting people. The critical, metaphorical and poetic aspect in artistic expression is part of our idiosyncrasy. It seems contradictory when you look at the political reality of our country. But social criticism is constantly present in Cuban creation. An example of this is the recent events we have experienced in Cuba, where a large number of artists have led the largest protest in years, when on November 27, 2020 more than 500 artists demonstrated in front of the Ministry of Culture demanding respect for independent art and freedom of expression. In some cases it is a practice that is taught in art schools, but in general terms social criticism, the reflection of our reality and the denunciation of these problems have a long legacy in our history. Artists such as Tania Bruguera, Carlos Garaicoa, Reynier Leyva Novo, Luis Manuel Otero Alcántara are a clear representation in these times.
In Europe, artists seem to be able to find public support through grants and foundations for their work. In the US, it has historically been very bleak. What kind of relationship do artists have with the Cuban government and are there programs, grants, foundations that can help artists?
The relationship of artists with government cultural institutions has two very marked paths. One path is well supported by the institutions and the other is completely independent. Both are usually related to the discourse of the work and the artist. Critical art, many times, if not most, moves independently, finding support in foundations and galleries in other countries. On the other hand, there are great Cuban artists who are very well represented by the country's institutions, museums, and galleries. In Cuba there is a great culture, therefore, there are many incredible artists. Currently, there are grants from institutions such as the Fototeca de Cuba or UNEAC (Union of Writers and Artists of Cuba) that support young and more established artists. There are also contests such as Postit from Galeria Galiano that promote young contemporary art. There are also foundations such as the Ludwing Foundation or embassies such as the Norwegian one that gives aid to creators every year.
It can be said that there is a great interest in art and artists in our country. Although not everything is easy. In many fields, we are still struggling to change laws such as the film industry or currently with the pandemic situation in which many artists are living a difficult situation without much support from the government.
Are there regulations artists face when dealing with international galleries and collectors – and have such regulations impacted NFTs? 
Normally there are not many regulations in this regard. Perhaps I am not the right person to answer because I have always worked independently and all the contacts and projects I have had with galleries and collectors from other countries, have been handled without any problem, nor any intervention by the government. However, there are great Cuban artists who organize important exhibitions with internationally renowned galleries and all with the mediation of the government. Although I do not know under what conditions it happens, I can say that they usually work very well for everyone. Both for the artist, the government, and the collectors. Fortunately, the issue of NFTs is so recent in Cuba that so far the government has not pronounced itself on the matter. I trust that there will not be a negative intervention in this regard or any limitation imposed to limit us. It is difficult enough for us to access this world.
How has the NFT market changed since you first entered it? 
Well, I am so new and everything has happened so fast and so recently that in general terms not much has changed. What I can tell you is how it has changed in my country. I went from never having read any Cuban artist talking about it, to seeing how groups are created on Facebook, Telegram, Instagram about NFTs in Cuba. Imagine my happiness. Cuban galleries write to me interested in learning about this. Projects such as Fábrica de Arte that aims to help more Cuban artists to access this space. Meeting Cuban artists in other parts of the world who are doing great work. Everything has changed in the world of NFTs for Cubans in the last few weeks.
What direction or developments do you think lay ahead? 
Sincerely? As I said in an interview, I think the limit is in the imagination. Great things can happen from now on and not only for art and culture. Let me give you an example that I experienced just a few days ago. One of the artists I am helping, who will soon present his first NFT, is called Yimit and he is very talented. He called me to come to his house to see what will be his first NFT. When I left his house I understood the potential that this can have. Imagine an NFT that was created with a lot of augmented reality scanning work that he's been doing for a while in Cuba, all those scans he started using parts and building a Cuban neighborhood with bits and pieces from many jobs. He literally built an experience that can be lived within the NFT itself. That is, the collector who acquires his masterpiece will be receiving a file that can be installed inside the Oculus glasses and from anywhere in the world where he is. He will be able to walk inside this Cuban world that this artist built. Do you get it? We are talking about an experience, of living and walking inside an NFT and getting to know another culture from any country in the world. I stayed Without words.
Do you think there is a perception the world has about Cuban artists? 
Of course, there is. Cuba is known worldwide for its culture. For the incredible musicians, painters, creators who were born on this island. I always say that for me Cuba is the country with more artists per square meter and that is known internationally.
What advice do you have for artists in Africa, South America, and Asia where local art markets may not be strong enough to sustain a career?
The answer for all creators who want to break through is always going to be to create first. Keep creating. No one ever knows what work will shake the world. Second, spend as much time as you can, at least at the beginning, entering the world of the NFT community. This, more than a great opportunity to commercialize art, is a great community that breaks with the traditional circle where art moves, where there are more barriers or certain elitist curricula. This is a community that supports each other, knows each other, teaches each other, helps each other, and connects. This is the great strength of this great evolution of art. In a field like this, it is worthwhile to start sowing.
Can you highlight 3 or 4 Cuban NFT projects that you are excited about?
The first one I should mention is the Fabrica de arte project, to create a platform to represent and pay the gas to many Cuban artists. Of course, the entry of the artist X Alfonso, one of the most important contemporary artists of the country, who will present only 5 NFTs of audiovisual creation of his authorship in the Foundation platform. And that is already news in our country, as this is a great boost for the creators of the island. 
In addition, I have to talk about Yimit, the fifth artist that I am helping, paying the gas for his first NFT, this artist not only has a great talent, but he will surprise with a series of NFTs, that more than a masterpiece, are a unique experience. To be able to live and walk inside an NFT, inside a creation. This will give a lot to talk about.
I could mention Paolo, Clitsplash, and many others who are coming on strong in this new world of art.
________________
To learn more about Gabriel Guerra Bianchini and to support his artwork please follow him:
Website | Foundation | Shop | Twitter | Instagram
You May Also Like
___________________