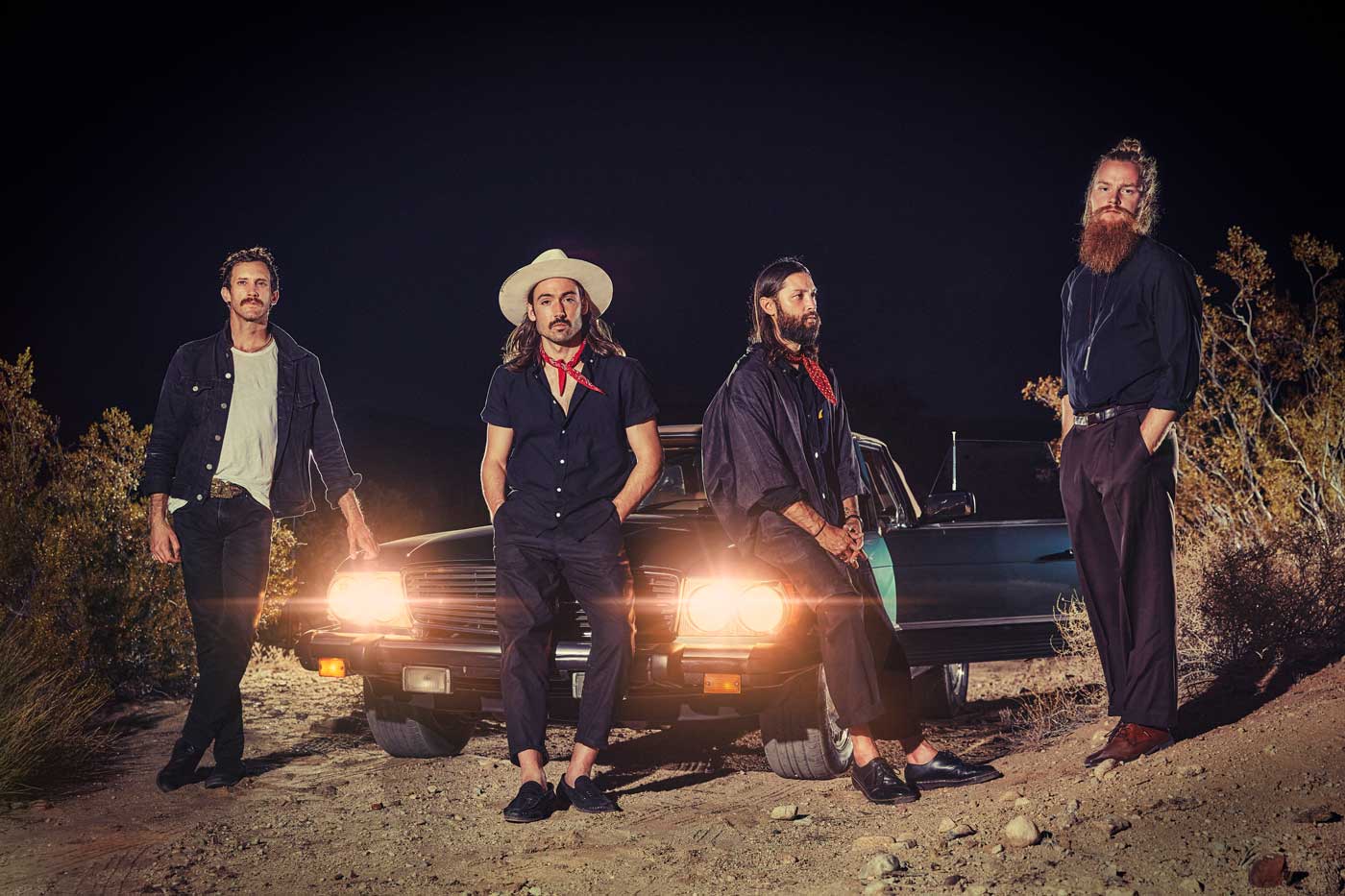 Matthew Coughlin
Interview: Grizfolk Share Hip Shaker – "Queen of the Desert"
When we first read the bio for Grizfolk, it mentioned that they are Los Angeles and Nashville based with roots in Sweden. That combination of locations was enough to pique our interest and we were not disappointed. Grizfolk knows how to craft a Rock song and definitely have their unique approach to melody. There is a polished grit to their sound that is backed by great songwriting and stellar musicianship.
Their single "Queen of the Desert", is a down-home rocker that would get any live audience moving and shaking (maybe one day soon). The track was produced by Rich Costey (Muse, The Killers, Barns Courtney), after a writing trip to Joshua Tree for inspiration.
We got to sit down with Grizfolk for a short interview (virtual) to talk about the track and how they are staying connected with their fanbase. 
"Queen of the Desert" is a great tune! What inspired the theme? Is it based on anyone in particular? 
"Queen of the Desert" is the story of an empowered female on a mission to conquer her dreams on her own terms. There are also some parallels one could draw to the struggles of living in 'Hollywood' trying to make ends meet, getting chewed up and spit out and taken for a ride before you even know what happened…which I think most Angelenos can either relate to or have witnessed. Honestly though, when somebody listens to music they can interpret the lyrics however they want. We've collectively latched onto tons of songs that don't mean what we thought they meant, and that's totally ok. 
Can you tell us a bit about working with producer Rich Costey and the writing and recording process for Grizfolk?
Working with Rich was a wonderful experience. He has worked on so many of our favorite records and running our songs through his filter was fun. A lot of times in the past we've been very 'hands-on' in the production process, but this time giving the reins to someone else for a few songs allowed us to just be the 'artist' and not have to wear the producer hat in the room as well. That was different and fun. It was also nice to make a record in Santa Monica, which is the part of LA where we wrote and recorded our earliest demos as a band (before we even had our band name). A little bit of a full-circle feeling. 
It's been hard for bands to stay relevant without touring – can you tell us how you are working to stay connected to your fans and reach new ones?
Lately, we've been focused heavily on writing. There's so much going on in the world, and writing seems to be the best way we know to make it through the uncertainty. We feel the best way to connect with fans is by releasing new music. For us, it's all about the songs and how they carry us through the hard times.  
Your band is based in LA/Nashville but has roots in Sweden. Do those roots influence your writing or overall sound?
All of our individual influences are always at play when we're writing and recording music. We try to honor our roots as best we can without placing boundaries or limits on our creativity.  
What do you guys have going on that fans can look forward to? 
We've been writing a lot of music and will be rolling it out consistently all the time. Hopefully, fans can look forward to us touring at some point in the not so distant future! We really miss playing shows. 🙁 We also have a couple of brand new merch items we're excited about that we're going to release very soon on our online store!
_____
Follow Grizfolk: Website | Instagram | Twitter | Facebook | Spotify
Listen to "Queen of the Desert" and other Trend & Chaos picks on our Spotify Discover Playlist.
You May Also Like
___________________