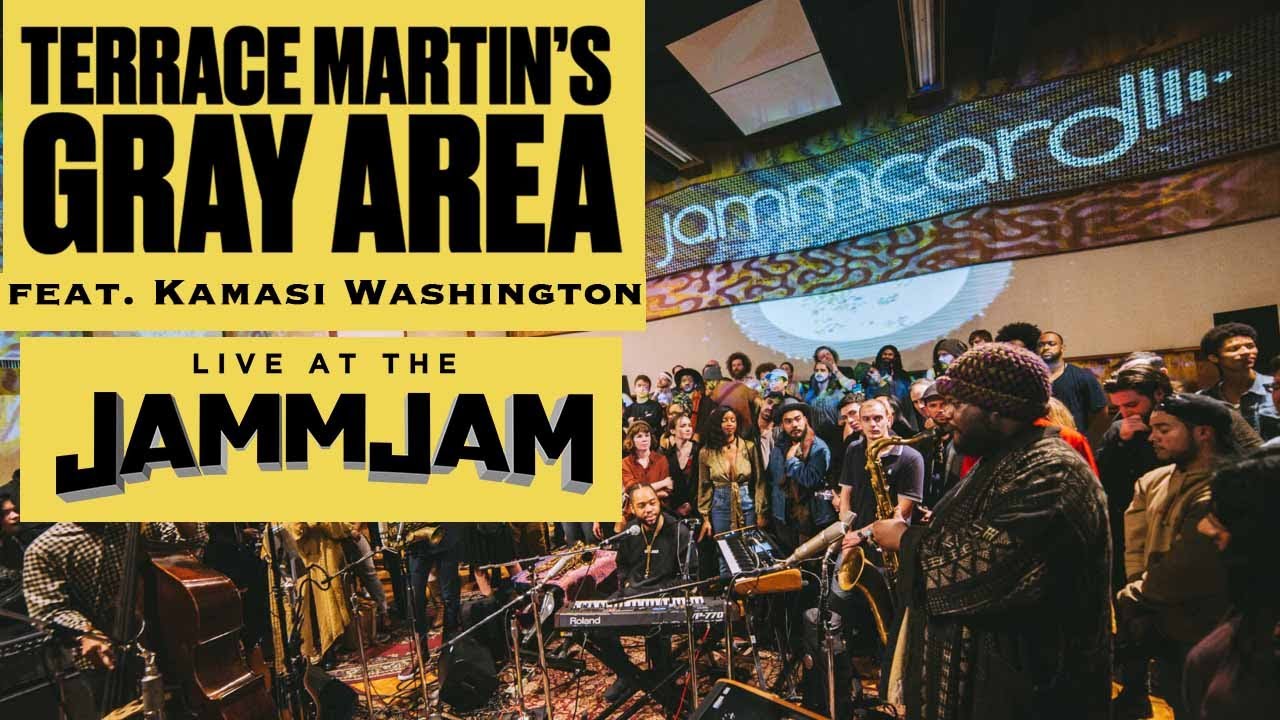 Terrace Martin Shares "Gray Area – Live at the JammJam"
Grammy-nominated producer, singer-songwriter, musician Terrace Martin shares a new album, Terrace Martin's Gray Area – Live at the JammJam, with one of a kind live performances featuring Kamasi Washington, Ben Wendel, Ronald Bruner Jr., Maurice "Mobetta" Brown, Paul Cornish, and Joshua Crumbly and others.
The album was recorded in-the-round with audience members as close to the musicians as they were to each other. That level of access is a mind-blowing experience, giving each listener the perspective of a performer. This is a JammJam trademark style event and we hope to see this start happening at other venues.
On the recording Terrace Martin said:
"It was a beautiful exchange of energy to have people that close to you in the midst of the music. Because we do life music. We do human-being music. We're trying to help heal souls, and heal ourselves. So through that sometimes you need to feel your brothers and sisters, you need to feel them as close as possible to you to make sure the right message is conveyed to the public." 
The standout track on "Gray Area" is a reimagination of the song "For Free?", the track that Terrace wrote and produced on Kendrick Lamar's, "To Pimp a Butterfly". In this instrumental version, the band stretches out, exploring interweaving patterns and fierce, spiraling interplay.
Another must-listen is "Juno", featuring Kamasi Washington, who's sound seems to levitate and float above the jazz circle. The purity of tone and the emotional storytelling here is about as good as it gets.
The JammJam is a highly curated live music event produced by Jammcard. It has brought the music community together to celebrate some of the biggest members of the industry such as, Quincy Jones and George Clinton. Performances have featured a variety of stars ranging from Ty Dolla $ign, Ice Cube, Jacob Collier, Judith Hill, Chika, Battlecat, Lauren Jauregui, Cory Henry, Anderson .Paak, to Mono Neon and of course, Terrace Martin and Kamasi Washington
"It's an honor to work with Terrace. We have a great chemistry creatively, and he inspires me to try new things and keep going. It was his idea to have Jammcard start releasing music. So there's no better way to start than by releasing his." – Elmo Lovano, founder & CEO of Jammcard and producer of the JammJam.
"I really believe what Jammcard is doing is the forefront. I don't think anybody knows the level of greatness of what Jammcard and the JammJam is doing." – Terrace Martin
Follow Terrace Martin: Facebook | Instagram | Twitter | Spotify 
More info about JammJam here.
Listen to "For Free?" and other Trend & Chaos picks on our Spotify Discover Playlist.
You May Also Like
___________________