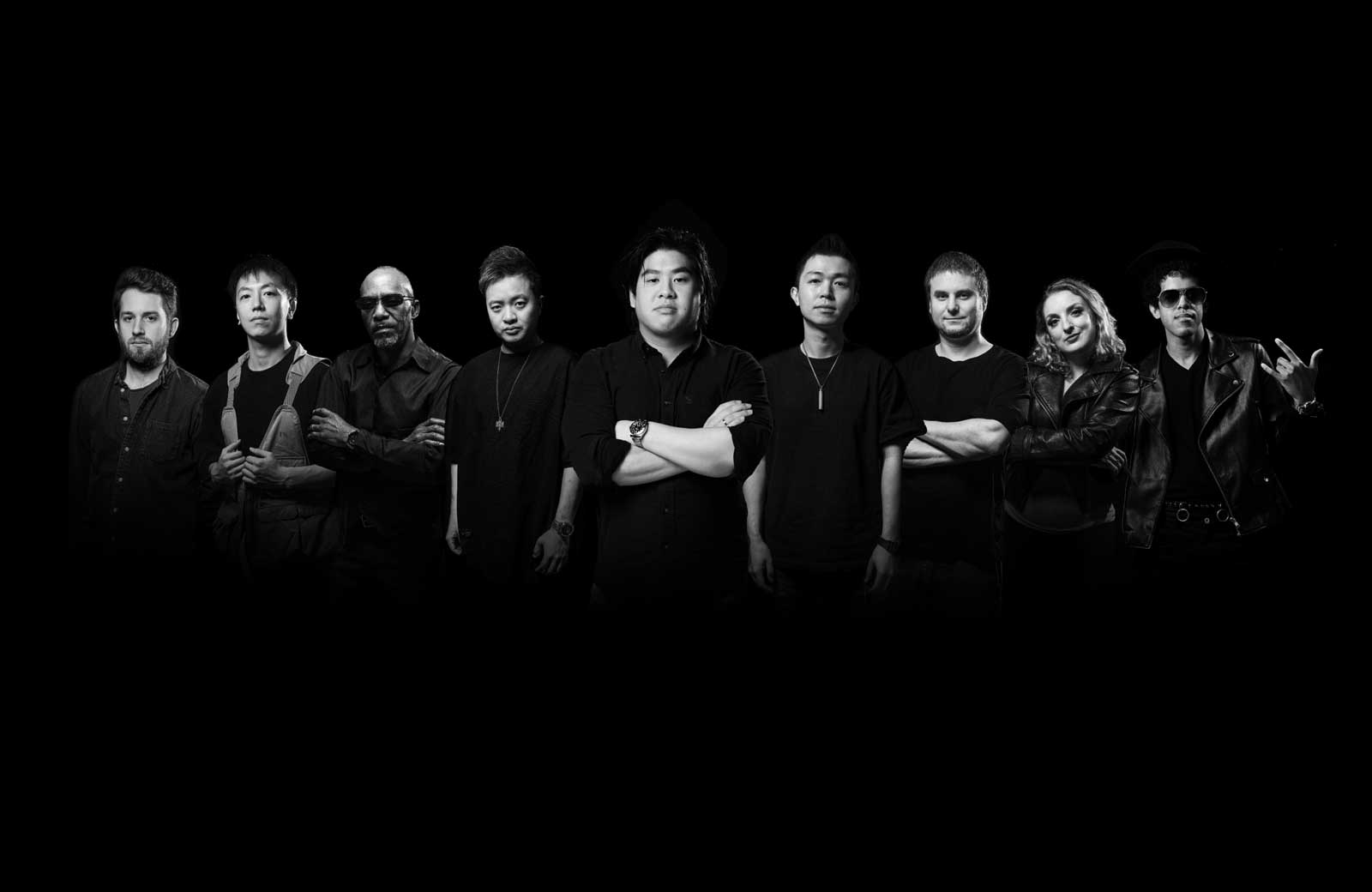 Interview: Chinese Jazz Funk Band – The Spice Cabinet
Taking a moment to tune out of the current news cycle to tune into some new music is highly recommended. This new discovery from Beijing, China is a band that I am very excited about and the perfect way to start off your 2021 playlist. The Spice Cabinet is a cinematic, jazz-funk group that is unlike anything we have heard out of China in recent years. A group of over 20 high-level musicians, that create epic arrangements that would be at home in a 70s Kung-Fu flick, or video game soundtrack.
The single "Pie Boy Moon Bone" from their new album, "The Adventures Of Pie Boy" is a conceptual piece that tracks a wandering hero through the martial arts underworld of Jiang-Hu. The adventure moves through different scenes as the music changes modes to accompany the mystical storyline. But since the song is an instrumental, so the visual imagery will need to be imagined – which won't be hard to do on this one.
I got to sit down (virtually) with bandleader Terry Hsieh for an interview to find out more about The Spice Cabinet.
Pie Boy Moon Bone draws influences from 1970s Kung Fu film soundtracks but also has elements of 90s hip-hop and Acid Jazz. What were your main inspirations for such an epic undertaking?
I love that surf-guitar sound – so when I was looking for inspiration, I was digging into a lot of Lalo Schiffrin and Ennio Morricone but also a lot of soundtracks from TV shows, like Hawaii Five-O and the spiderman and batman themes: in particular the 1980s television show of the Journey to the West– the theme is sooo amazing. I really wanted something epic, but doesn't take itself too seriously. I love New Jack Swing as well– those snare samples and the Oberheim toms that I pitched up– just were such a huge part of my youth. And when you think about all those sounds in context of the show Journey to the West, it just brings back such strong feelings of being a kid and watching the monkey king prance about across the screen in grainy shades of warped VHS. Obviously, as a jazz musician, I wanted to get some harmony with some girth to it as well, so I had this breakdown at the end that I really felt like might work over a Slum Village track, or from that era, but it's actually quite challenging to solo on and I had Tony Parker, the drummer, go all Drumheadz on it (Chris Dave, et al). Because I kind of composed each section separately and used samples and non-melodic instruments to glue the whole thing together, I always feel that the whole song is kind of trying to tear itself apart from the inside out. 
The Spice Cabinet band on this track is over 20 musicians. What are some of the challenges of working with such a large group?
Well obviously that challenge is not unique to us, in that during this period in which global travel is just completely unavailable to us, we have to find ways of coping with the lack of face-to-face access. Fortunately, my main gig is pop music these days, and when you're playing pop music, you're playing with a click track. So producing these songs with a pop music mentality actually allowed me to get much more specific with it– I produce a click track and a demo of everything that will be played, usually with some MIDI (of debatable quality) and tell the musicians to be as close to it as possible. We're all used to working with clicks, so it's actually quite easy once I've produced the song and sent it out. My guys are great in that they all have home studio setups and can work independently on their own. 
Is The Spice Cabinet sound unusual for the area of China where you are from or is there a jazz movement around you with a lot of interesting bands and musicians that we should check out? If so, what are some of your favorites?
That's a really great question and it allows me to talk a little bit about how cool Beijing is, as a city. Most people think about Shanghai when it comes to Jazz music in China, but really, as a long-term resident of Beijing, I find that the scene is so much more creative and experimental. There are so many people doing so many different things, whether it's avant-garde, experimental electronic improvisation, original tunes, or whatever you may have. So it's hard to say whether it's similar because almost everybody is doing something different that reflects their own interests. There's a collective called Creative Composer Collective which does monthly shows (founder Simone Schirru is currently on hiatus because he's back home in Italy and can't get a visa). Nathaniel Gao, Anthony Vanacore, the Ah Q Jazz Arkestra, Sejin Bae,  Moreno Donadel, the list goes on. Charlie Wang, the bassist, self-wrote and published an album called "The Journey" that was the last Chinese album to win Best Jazz Album at the Golden Melody Awards since 2017. All these really heavyweight guys who just make Beijing their home, and have a variety of influences and you can find them playing almost any night of the week. Obviously these days it's a limited viewing because most venues are closed, but the Jazz scene really has potential for creativity that I don't see in many other metropolis of that scope. A lot of these bands are super low key– they don't put out many recordings or advertise their shows beyond the immediate circle of the jazz scene in Beijing, but they have amassed a huge amount of repertoire and got really unique perspectives on "jazz" in the modern world. 
I should also note that when I started working on this song, alone in my Taipei hotel room, I knew that I wanted to do something that was way beyond a "live jazz song" in terms of the sound. I wanted to do something that really can't be done live– at least easily– something unique the medium of thru-composed recording that requires a more finessed and, maybe you could even say, less-natural-and-more-produced sound. So once I had decided that, it really kind of wrote itself.
Pie Boy Moon Bone is a very interesting title – can you tell us where the name comes from?
So I used to do a lot of playing in the backing bands on TV shows in Changsha, Hunan, which is where the home of the famous tv station Hunan Weishi is based. I'd be there, like 3 months of the year, flying in and out every week, for months. And we always stayed at this hotel called Ming Cheng International Hotel, which has a really funny Chinese restaurant on the first floor, where we always ate. For foreigners, they had these placards with English translations of Chinese dishes and some of them were hilarious. I started collecting the names because some of them started to sound kind of interesting. Pie Boy Moon Bone happened to be one of those dishes but there were others on there too a preserved egg dish called "A Little Skin and a Little Egg" and a soup called "A Large Bowl of Scum"– things I'm considering using in my next album.
Currently, in the USA and Europe, most live shows have been put on hold due to Covid. What is happening in China these days, have you been performing live?
In China, there are some live performances going on. Small festival circuits are ongoing, and a number of venues are open for small performances of small groups now. However, the large stadiums and some of the more well-known venues are still under scrutiny as they are really scared of being the center of another outbreak and the kind of trouble that could cause them, later on down the line. Spice Cabinet, unfortunately, hasn't been performing live, because I've been in Taiwan since February (I came here for a gig and subsequently couldn't back in, after they closed the borders). We've been working on this single and this upcoming album!
Are you working on anything new that fans can look forward to?
Well now that you mention it– we've got a new album called "The Adventures of Pie Boy", on which Pie Boy Moon Bone is one of two singles, also Bittersweet which we made a music video for. It's a pretty wild album, in terms of its breadth– if you think this one is crazy, every song in the album is just as nuts as this one. And it really kind of goes all over the place, in terms of scope. I'm really proud of it, and so is everyone involved. Beyond that, I'm starting to amass a pile of content that I'm hoping to begin releasing a few months after Adventures comes out, on a semi-regular basis. Singles, videos, a few behind the scenes takes. Lots of stuff.  Hope we can get you all involved again! 
Follow The Spice Cabinet: Website | Instagram | Twitter | Facebook | Spotify
Listen to "Pie Boy Moon Bone" and other Trend & Chaos picks on our Spotify Discovery Playlist.
You May Also Like
___________________