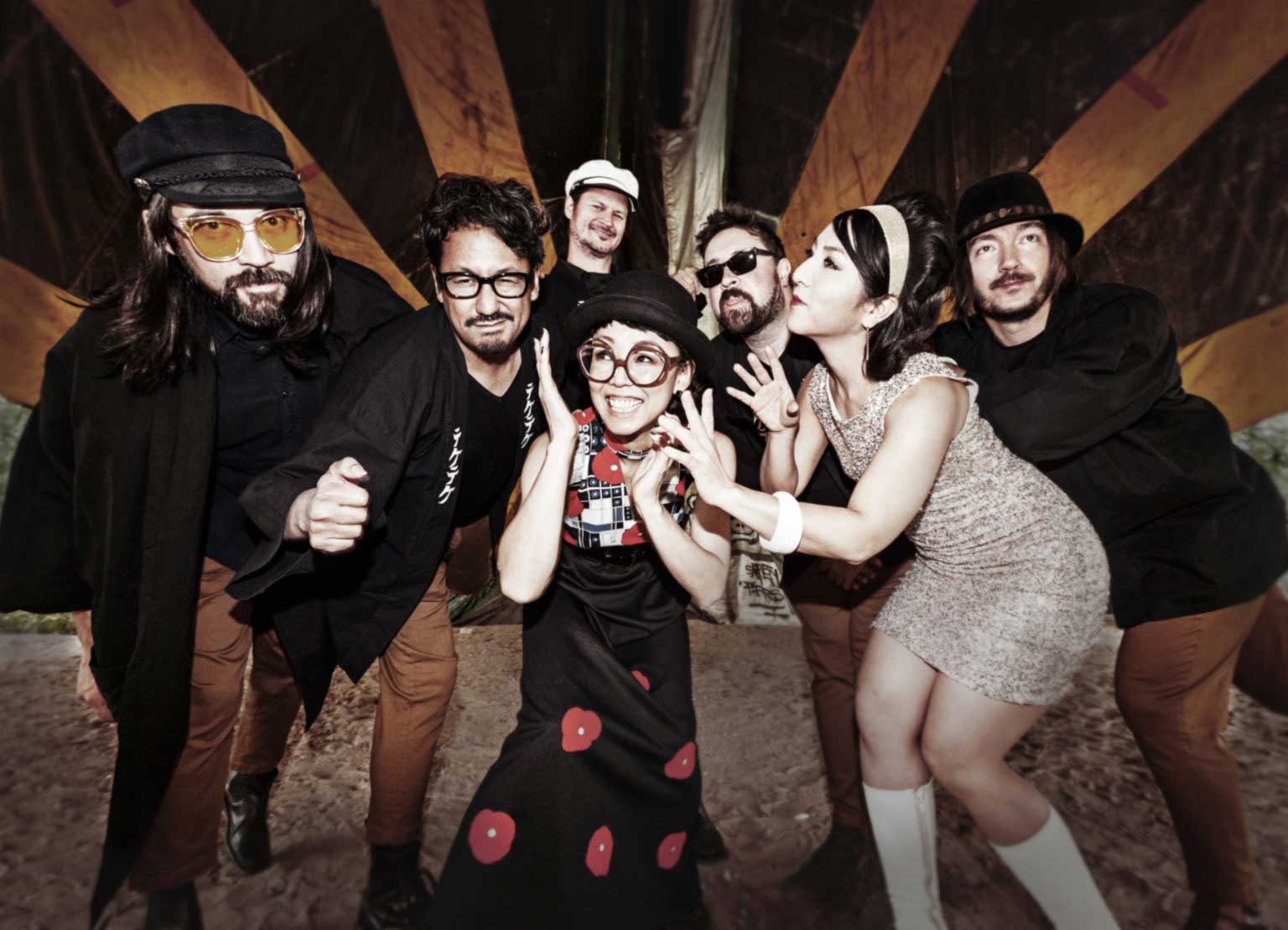 Interview With Japanese Psych Rock Band – TEKE::TEKE
This post is also available in:

日本語 (Japanese)
One of my favorite music discoveries from this past year is the Montreal-based seven-piece Japanese psych-punk band, TEKE::TEKE. As soon as you hit play on any of their songs, you are immediately transported back in time to the 1960s where Japanese folk music melts into a psychedelic film noir soundtrack. Two of my favorite tracks are a celebration of the senses. First is a cover version of Takeshi Terauchi's "Chidori". Terauchi was a pioneer of Japanese psych music with his band The Blue Jeans. The second is the original "Kala Kala", an absolute mind-melting track featuring traditional Japanese flute, fuzzed-out guitars, and the unique vocal stylings of Maya Kuroki.
I got the chance to sit down (virtually) with TEKE::TEKE to discuss their influences, creative process, and what they are working on now.
We are fans of 1960s Japanese Psychedelic bands like Speed, Glue & Shinki, The Voltage, The Carnabeats, and others. What bands have inspired your sound?
We love the above-mentioned bands, also JA Seazer, Tokyo Kid Brothers, and more experimental stuff like Les Rallizes Dénudés or Geinoh Yamashirogumi to name a few. We're also fans of singers, like Fuji Keiko, Asakawa Maki, and Nakajima Miyuki. As far as lyrics are concerned, Enka and its tendency for drama is also an influence (as noticeable in our recently released single 'Kala Kala'). That being said, although we like playing around with all these influences, they really make just one part of the whole picture. We are a pretty eclectic group of people in the band and since we didn't grow up in those years, we could say that this nostalgia was transmitted to us by our parents. Our own musical nostalgia being more rooted in the 80's and 90's, perhaps the sound of TEKE::TEKE is a bit of a meeting of those two worlds, with, in addition to that, everything we dig from current artists from all over the world.
Can you tell us a bit about how TEKE::TEKE formed in Montreal?
TEKE::TEKE formed around the initial idea of putting together a tribute band to play Takeshi Terauchi's music for a one-off show as part of a local psychedelic music festival. In order to do that, I had recruited local musicians I knew from different projects I had been involved with in the past. At first, what might've looked like an improbable group of people ended up being an amazing experience of musical chemistry and just pure fun. It was clear then that this was not going to be a one-off thing and that something special was happening with this specific group of people and their respective backgrounds. However, we weren't interested in being a cover band or some 'retro' band, so we started writing our own tunes and added singer and performance artist Maya Kuroki to the line-up, looking ahead ever since.
Your single, "Chidori" is a cover song from legendary Japanese guitarist, Takeshi Terauchi from his band The Blue Jeans. What was it about this song that inspired you to want to cover it?
'Chidori' is a song that TEKE::TEKE automatically related to because of its high energy, its arrangement, its melodies… It just sounded to us like a song we could do a reinterpretation of, that had all the elements and space for us to give it a modern twist and to dare I say, make it even more punk, with all due respect to the great 'Terry'. That explains why, while in the studio recording our album, we decided to just cut that one live and in one take.
TEKE::TEKE's visuals seem to be influenced by 1960s album artwork. What is your visual creative process like?
A lot of the influences for our visuals come from Shôwa. We're particularly fans of 60's Japanese counter-culture and avant-garde theatre and film posters aesthetic. Their colorful, punchy, and punk collages make for very impactful art that really resonates with us. You can really feel the energy that comes out of the work. Again, those are influences and references, and it's important for us to bring that into our own context of today.
We usually start with a very DIY and organic approach where while Maya (singer) will be doing some paintings and calligraphy, maybe some collages, I'll be printing out photos, cutting them with scissors, adding some textures…etc. At some point, we transfer everything to our computers where more tweaks are made.
It's been a difficult time for bands to stay connected with fans. Have you been able to play live or are you mostly working on recording?
We obviously miss the live shows and the people a lot, but we're taking this time to work on more creative stuff. We did give a few live-stream shows a try and did some 'confinement' style videos, but then, with our recent signing to record label Kill Rock Stars and the album coming up, we redirected our focus towards creating content (for the web) and planning the release of our first full-length which comes out in the Spring. We've also started writing new music for our next record.
What can fans look forward to next from TEKE::TEKE?
When recording studios reopened temporarily at some point during summer (with new regulations which didn't allow all of us 7 band members to be in the same room together), we used that window (with the challenges it implied) to record two new exclusive songs which are released by SUB POP Records as part of their 'Singles Club'.
Our first full-length album (Shirushi) is due to come out in the spring of 2021 on the label Kill Rock Stars with some singles released before then.
We're also working on some videos which will come out early next year, both music videos and performance videos.
Finally, as soon as the pandemic is over, that everyone's safe and we can have live shows again, we'll be ready to tour!
Thanks for taking the time for the interview!
Thank YOU! ☺ TEKE::TEKE
___________
TEKE::TEKE recently signed with Portland-based label Kill Rock Stars.
Follow TEKE::TEKE: Website | Instagram | Facebook | Spotify
Listen to "Kala Kala" and other Trend & Chaos picks on our Spotify Discover Playlist.
You May Also Like
___________________
This post is also available in:

日本語 (Japanese)