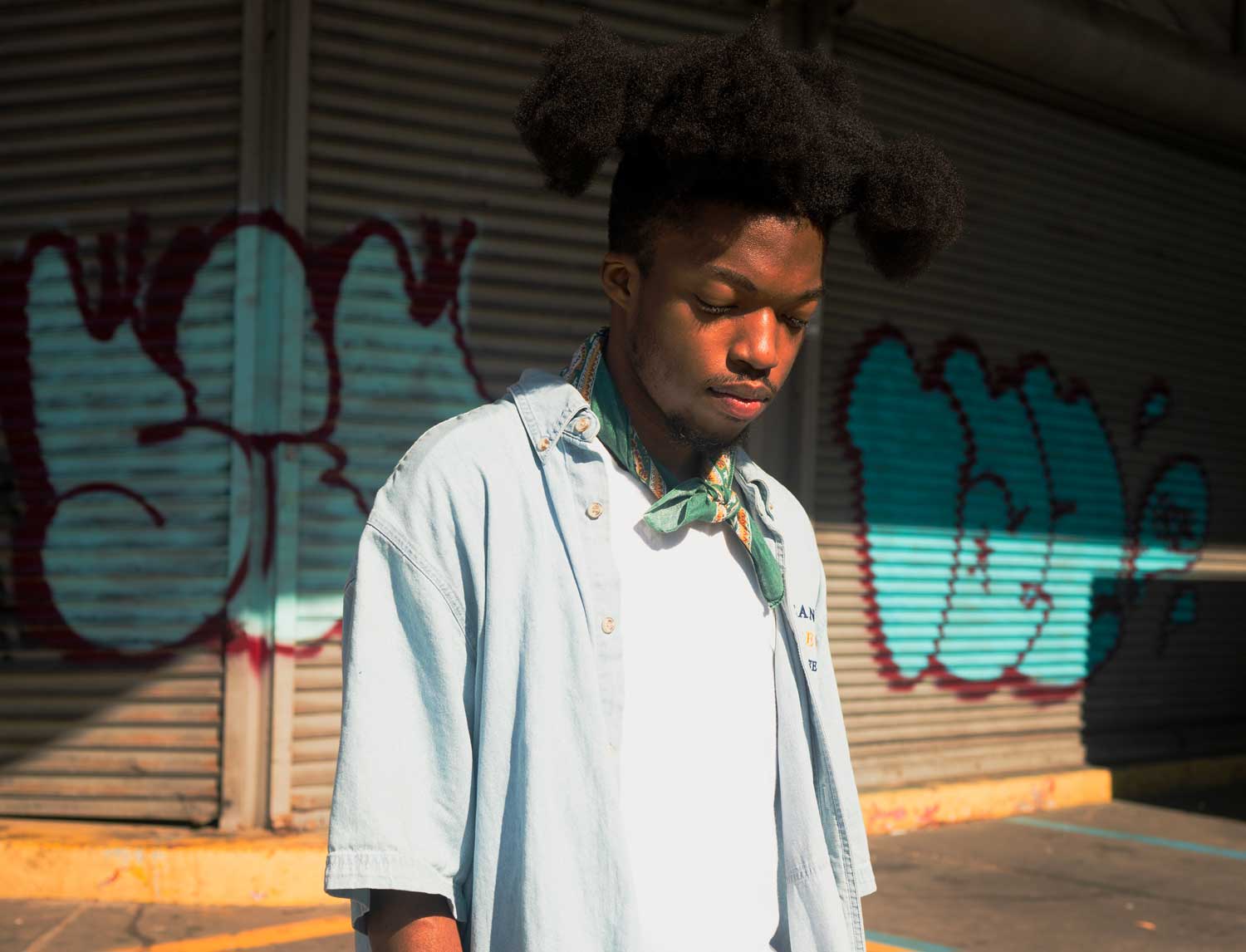 Interview With NY Bedroom-Pop Artist, Mal The Oddity
This post is also available in:

日本語 (Japanese)
Before the shutdown hit New York, the indie bedroom pop scene was really starting to take off. There was a vibrancy and enthusiasm for it that we haven't seen in this city for a while. And as musicians everywhere shelter behind their laptops and do the best they can to keep moving forward, there are artists out there that are making the best of the situation and continue to thrive. Mal The Oddity is one of those artists that has caught my attention. He is making incredible pop music on an extremely modest setup and his latest single, "Right Now" is an outstanding end of summer bop.
As an indie black kid whose influences range from Frank Ocean to Tame Impala, Mal The Oddity is unique in a world of bedroom-pop sound-alikes. Mal brings a distinctive voice and energy to his music that resonates on many levels. His songs speak to his generation and while emotional and sometimes vulnerable in tone, are incredibly catchy with just the right amount of bounce.
I had the pleasure to sit down (virtually) with Mal The Oddity for an interview.
I love the name, Mal the Oddity! What about you makes you odd?
Thanks. That's a good question. Honestly, I didn't think about it too much when I decided to slap that label on all my music, but I take a lot of pride in being weird. Not even just from a music standpoint but my personality. I was definitely more of a socially awkward kid growing up. For a while, I didn't like my quirks or any of the things that marked me as different from the "norm". But nowadays I just live in my skin because there is no "norm". So really, "the Oddity" is really just me accepting myself as a weirdo like we all are in our own ways. And my real name is "Amal", so that's where the "Mal" comes from.
You seem to have very diverse influences in your music, how would you define your sound?
I think of myself as a storyteller first and foremost, and a producer as a close second. Conceptually, the sound is defined by my desire to paint images and worlds in your head, in whatever way that I can. I write a lot of my music while on walks or riding the MTA. I think I have a very "in your head" type of vibe. Sonically, I just love psychedelic, chill sounds you can kind of zone out or daydream to. Stuff that inspires your own imagination and desire to look inward. And then I love a catchy hook, a unique vocal tone, a lo-fi aesthetic.
The NYC bedroom pop scene was really taking off before Covid-19, can you tell us a bit about the scene, other artists you like, how you see it growing in the future?
That's a good question. Honestly, I'm a bit of a newcomer to this "scene". I truly don't consider genre during my creative process, not until I'm at the refining stage. I used to rap a lot and play with a more hip-hop centric sound. So I really kind of stumbled upon this bedroom pop genre, made a couple tunes I loved and decided to run with it. But among artists that I love from the genre, I've got to mention Triathalon. Amazing group. Gus Dapperton is somebody I see as a trailblazer in the scene, and I'm pretty sure he's from New York. Also, Caleb Giles, who is a bit more hip hop influenced but still perhaps related to the "lo-fi" umbrella. To me, "bedroom pop" is more of an approach/energy/method than a strict musical genre anyways, and its appeal is that it allows artists like me to live out and produce full-fledged musical ideas regardless of the equipment we have access to. I recorded my last two releases on an AT2020 in my bedroom. No room treatment, no expensive interface, no studio setup. Just my laptop. There's a lot of wiggle room for individual styles, new mixing techniques, a whole range of vocal tones, etc. Moving forward, I feel the scene will produce some wonderful artists with no limits besides their imagination.
Anything new in the works?
Yes! I have a couple more songs I'd love to drop this year, plus accompanying visuals for each. I won't say too much about them because I still need to work on some things behind the scenes with the team, but new music & visuals are definitely on the way.
Check out Mal The Oddity's new single "Right Now" on all platforms.
Follow Mal The Oddity: Instagram | Spotify | Soundcloud | YouTube | Facebook | Twitter 
Listen to "Right Now" and other Trend & Chaos picks on our Spotify Discover Playlist.
You May Also Like
___________________
This post is also available in:

日本語 (Japanese)