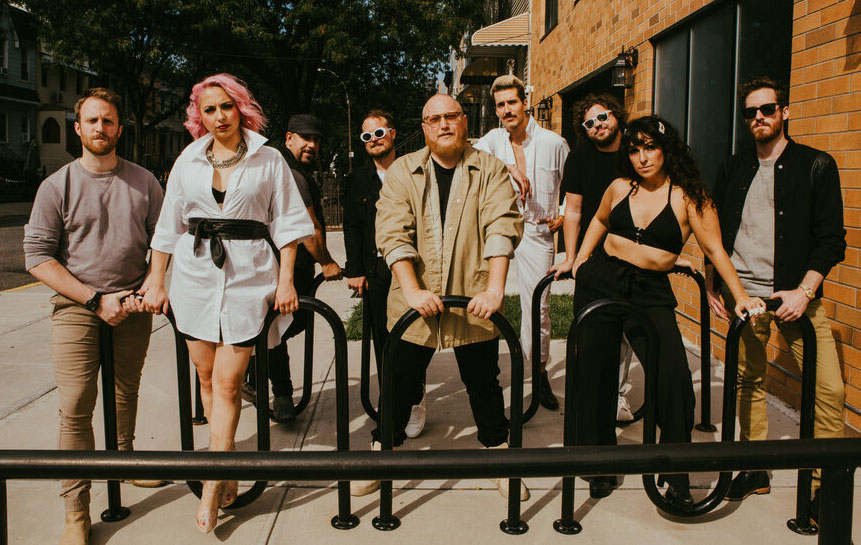 Interview: Turkuaz Are Joined By Talking Heads Legends on "Ophidiophobia"
This post is also available in:

日本語 (Japanese)
In a saturated, pop-driven music market I always have my eyes and ears open for something that breaks through the din and rises to the top for whatever reason. It could something as simple as a bizarre album jacket, but for me, what usually stands out is something about the project that required an impressive amount of effort and attention to detail to pull off. This was the case when I heard the new single, "Ophidiophobia" by the Brooklyn-based nonet, Turkuaz.
First of all, the heroic effort of keeping a nonet together and thriving in the current environment is enough to catch my attention. I have lead large bands in the past and it is no easy task. Turkuaz has been described as a funk band and they are damn funky but they go way past that. They are a New York band and that shows in the melting pot of ingredients that shape their music. Take a deep dive into their albums and be sure to check out some clips from their outstanding live sets from venues like Terminal 5, Red Rocks, and The Fillmore.
From the infectious bass line to the harmonically dense horn arrangement, "Ophidiophobia" embodies so many different tonal and rhythmic shapes that all come together to form a massive, organic groove that is truly breathtaking. And to add to that, Turkuaz is joined on "Ophidiophobia" by 2 legendary guests; Jerry Harrison (Talking Heads) and Adrian Belew (Talking Heads, King Crimson, David Bowie). Belew's screaming elephant guitar solo jumped out of the speakers with a familiar squeal. 
I sat down (virtually) with Turkuaz band leader Dave Brandwein to ask a few questions about the collaboration and story behind "Ophidiophobia".
We love the new track "Ophidiophobia"! It's a very interesting song title – what's the story behind it? 🐍
What began as an instrumental groove originally titled "Dr. Jones" with a sinister, dark tinge turned into an Indiana Jones-inspired track, as recalled by Turkuaz bari-saxophonist, Josh Schwartz. Another working title that I added was "Akar Saga". After looking up the phrase and discovering it was a beautiful, tropical vine, Schwartz knew he was onto something special. "A poisonous but beautiful tropical vine with red and black features reminded me of snakes, of which Indiana Jones is famously afraid of, so I realized I could combine imagery and words from both placeholder titles to write a song involving snakes," Schwartz illuminates. "When I found out that the fear of snakes is a word as beautiful and strange as ophidiophobia, I knew this song had to be written.
This was yet another great collaboration experience with Josh built on a groove/bassline that Taylor [Shell] brought in to some writing sessions we had here at my studio (Galaxy Smith Studios). On the creation of the groove with the band, "I think most of us took a small amount of these mushroom capsules I had. Turns out they weren't so 'micro' and some of us had a bit more of an experience than we'd planned for. But we carried on and tried to let the grooves take over! Once Taylor started on this bassline I think we may have just jammed on it for about 40 minutes straight. The rest is history.
How did Jerry Harrison and Adrian Belew become involved in the project?
We had always planned on doing a little bit of Turkuaz material in the upcoming 'Remain in Light' tour with Adrian Belew and Jerry Harrison. While the song had been penned for some time, it had yet to be performed live and so I was eager to add it to the "Remain in Light" repertoire for the 2020 summer. Once the pandemic hit and the tour was postponed, I started to think this would be a really nice track to have those guys on." So in the age of social distancing, Harrison and Belew added in their parts remotely and the "Remain in Light" ensemble put something special together for this weekend's Virtual ROO-ALITY to honor the collaboration.
What was it like working with these two rock legends?
I try not to think about it too much. It's pretty mind-blowing considering what a profound influence their work has had on me and on us as a band. But in the moment of collaboration, I just try to be present and do what's best for the music. It's usually after the process that I reflect on it and appreciate it." 
Live touring is so important for a band like Turkuaz, how have you been keeping fans engaged during the lockdown?
"We've been cranking out content the whole time from afar. That's how I stay sane, and I want to give our fans a way to stay sane too. We've done 4 virtual festival performances, released videos of 12 Beatles covers, 2 episodes of our variety show with some more to come, this new single and now some content celebrating the 5 year anniversary of our album, Digitonium. We'll keep cranking out more material throughout the pandemic and beyond. It's just what we do.
Anything new in the works or things we should be looking out for?
I've just launched a show called 'Keep Your Mind in Tune' along with my friend, Kunj Shah of Live for Live Music. It incorporates music along with interviews with experts across various topics we face as a nation right now. I think it's an important time to be doing it, and it's also a chance to keep making content and collaborate with great musicians. Additionally, we have a lot of Turkuaz material in the works, and some solo records coming soon from a couple band members. Always stay tuned with Turkuaz. We will not disappoint. Oh – and the Remain in Light tour will happen as soon as this country gets it together with this virus. We can't wait to get back out on the road and play for our fans!
Follow Turkuaz: Website | Facebook | Twitter | Instagram | Spotify | YouTube
Listen to "Ophidiophobia" and other Trend & Chaos picks on our Spotify Discover Playlist.
You May Also Like
___________________
This post is also available in:

日本語 (Japanese)